York Metal Products stands proudly on its over 25-year reputation for quality craftsmanship and professionalism in every area of service to architectural product manufacturers. Our ability to make round and circular products is a perfect fit for North American architectural design and development requirements. Reshoring to more localized and responsive metal suppliers with consistent product quality is underway. We work with our customers' engineering teams on both manufacturing existing products and developing new designs. The results are responsive, creative and simplified solutions.
We actively supply customers the in the follow areas:
Table bases
Indoor light fixtures, shrouds and reflectors
Outdoor lighting fixtures
Site furniture
Water fountains
Trash and recycling containers
Waste container lids
Speciality round and circular shape projects
Our metal fabrications, spinnings and rolled products meet the attributes, design, functionality and performance criteria for use in superior architectural products built in North America.
Table Bases
Our table bases are stylish, durable and stable. Made from high quality steel, our table bases are used by table manufacturers in the institutional and hospitality industry. We can work to your specifications or use our own standard designs to suit your needs.
Outdoor & Indoor Lighting Fixtures
York Metal Products manufactures lighting shrouds, reflectors and assemblies for both interior and exterior applications in steel and aluminum. We have developed speciality processes to ensure the spun surfaces meet your part surface finish criteria. Our laser tube seam weld offers a low profile flush seam that is visually pleasing and our 5-axis laser cutter ensures accurate interface holes and cut-outs into the spun, formed or assembled part.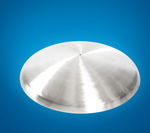 Trash and Recycling Containers & Lids
The heightened awareness of recycling and trash segregation means an increased need for trash and recycling containers, round and circular containers, as well as waste container lids. Our processes make us an ideal choice for manufacturers requiring trash lids and container components.
Special Projects
York Metal Products is involved with many design engineers on special projects. We have numerous examples of customized products, ranging from water and fountain venturis to hemispheric and dished head shapes that are used by companies who make unique products that ship around the world. We also have the expertise and capabilities to make trumpet table bases, metal planters, metal light fixtures and so much more, all meeting your stringent requirements.